CHICAGO (CBS) — A frightening scene near Navy Pier after a taxi hit eight pedestrians.It happened around 4:30 Saturday afternoon.Divvy bikes were strewn across the sidewalk as onlookers appeared in shock.
Police said a taxi and another vehicle collided, causing the taxi to go up on the sidewalk on Illinois under Lake Shore Drive.
"He hit the garbage cans and after that he hit the coolers. He hit some people on bikes," said witness Jesse Ramirez.
The victims were taken to the hospital and were all in good condition.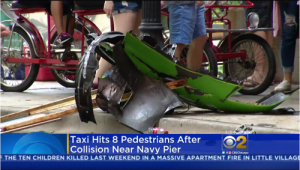 How a Walner Law® Attorney Can Help
If your loved one has been injured in a motor vehicle accident. The Chicago attorneys at Harvey L. Walner & Associates, Ltd. have over 75 years of experience handling motor vehicle and other personal injury lawsuits resulting from Motor Vehicle Accidents. Contact us today to schedule a consultation and find out exactly what your legal options may be.