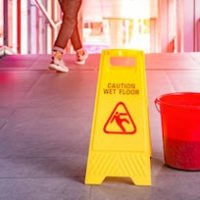 Many Chicagoans are learning the dangers of hidden ice and suffering injuries as a result. Hospitals and emergency rooms around the city are reporting a prevalence of slip and fall injuries even as the weather begins to turn warmer. Dr. Harris, a Northshore University doctor, stated that he had never seen so many wrist fractures stemming from slip and fall accidents in a single shift before this winter. He estimated that in the course of a single shift in a single day, he treated fifteen to twenty patients for slip and fall injuries.
One issue unseen cause of slip and fall accidents in the winter is ice hidden underneath the snow. Earlier in the year, there was considerable ice accumulation under three to four inches of snow and people did not realize how easy it was to slip on the hidden ice. As the weather begins to get warmer, conditions can be particularly slippery when the temperature fluctuates between above and below freezing. The thin layers of ice that can form are incredibly slippery and can cause accidents.
Doctors typically see two types of wrist fractures as the most common injuries caused by hidden ice in Chicago. The first is a Colles wrist fracture, which happens when a person tries to break their fall by putting their hand down behind them. The second type of wrist fracture is a Smith fracture, which happens when a person tries to break their fall by putting their hands in front of them. Putting your hands out is an instinctive gesture to protect your head and other body parts from connecting with the ground, which is why wrist fractures are the most commonly seen slip and fall injury.
Other injuries stemming from slip and fall accidents have also seen an increase in frequency in hospitals around Chicago. Most Colles and Smith fractures can be set with a cast or brace, but serious falls can cause an open fracture, where the bone is protruding from the skin. Head trauma and traumatic brain injuries can also be caused by a slip and fall accident, and they require immediate medical treatment to avoid complications or serious, permanent injury. Doctors and other professionals recommend buying shoes with heavy traction or small spikes that will dig into the ice during the winter weather in Chicago and to be particularly careful if walking a dog that pulls or engaging in other activity that might throw you off balance on the ice.
Call or Contact Us Today
Slip and fall injuries can happen all year, even as the weather begins to get warmer in the city. If you have been injured in a slip and fall accident in Chicago, you may have a claim for your injuries. Call the office or contact us today at Harvey L. Walner & Associates to schedule a free consultation of your case with one of our experienced Chicago slip and fall attorneys and learn more about your legal options.