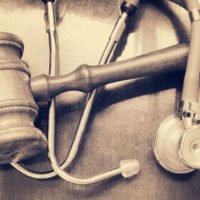 It can be difficult to watch a family member suffer from injuries caused by medical malpractice. While many cases are caused by surgeries and other complex procedures, it is possible to permanently harm a person by applying a wrap too tightly to the body.
This was the case for a toddler from Whiteside County. When the 2-year-old boy suffered a fall in November 2011, a doctor at Morrison Community Hospital applied a wrap to his wrist. Evidently, the wrap was too tight and cut off circulation to the wrist, hand, and arm. When the child returned to the emergency room, the doctor refused to remove the wrap. As a result, the boy suffered permanent injuries.
The boy's family filed a civil suit in May, with the Morrison Community Hospital District, Acute Care, Inc. and two doctors as defendants. The jury trial took nine days. On May 13, the jury deliberated for 2 ½ hours and rendered a verdict in favor of the child's family. The judge awarded the family $2.2 million, the highest amount ever in Whiteside County.
What to Know About Medical Malpractice
There are some misconceptions and complicated aspects of medical malpractice. Doctors must meet standards of care, but determining these standards can be tricky. There are no cut and dry laws, so standard of care is based on expert witnesses, which are doctors who practice in the same medical specialty. As the victim, you have the burden of proving negligence.
A bad experience does not equal medical malpractice. For example, if you were not satisfied with the results of your cosmetic surgery, you cannot sue your doctor. In addition, if your doctor warns you about the side effects of a surgical procedure, and you develop one, you cannot claim medical malpractice. Surgery is risky, and you were warned about the risks ahead of time.
The negligence must have led to the injury. If a doctor accidentally left a sponge inside your body, but you never developed any sort of medical harm because of it, then you do not have a viable claim.
There are time limits involved. You have two years from the date of the injury and four years from the date of the procedure to file a medical malpractice claim. The statute of limitations is longer for minors.
Medical malpractice is costly and time-consuming to prove. Therefore, lawyers are picky about the cases they will take on. If the injuries are too minor, it will not be worth it financially from the lawyer's point of view.
Contact an Illinois Medical Malpractice Lawyer Today
Medical negligence can cause significant injuries to victims. Some develop permanent disabilities and severe pain and suffering. Some are even killed by medical malpractice.
Don't ignore the situation. You are likely dealing with hefty medical bills, through no fault of your own. The dedicated Chicago medical malpractice attorneys at Harvey L. Walner & Associates, LTD are not afraid to take on your case. Medical malpractice cases are difficult to defend, but we are up to the challenge. To schedule a consultation, call (312) 313-2888 or fill out the online request form.