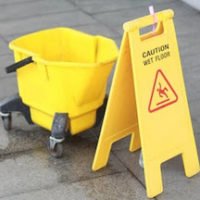 A state appeals court has ruled that a woman is not allowed to sue a Chicago Food 4 Less store or the company hired to clear the snow from the parking lot after she slipped and fell on ice and broke her ankle. Sharon Jordan was injured on November 12, 2013, when she slipped and fell on black ice outside of the city grocery store. She had three bones displaced in her ankle, requiring surgery to fix. In her initial lawsuit against the grocery store and company hired to clear the ice and snow, Pete's Lawn Care, Jordan claimed that the defendants were negligent in monitoring weather conditions to determine whether snow and ice removal was necessary.
The appeals court ruled in favor of the grocery store and lawn care service, stating that the victim in slip and fall cases bears the burden of proof to show that the accumulation of ice and snow was unnatural and that the defendants knew of the condition. In this case, the appeals court found that Jordan did not claim that the accumulation of black ice was unnatural, that the grocery store or lawn care service increased the risk of slip and fall through their actions, or that a premises defect led to the accumulation of ice. The justices in the ruling also stated that snowfall and ice formation removal can rarely be done perfectly, and asking for perfection in the removal of ice and snow from parking lots would place an unreasonable burden on the property owner.
Illinois Premises Liability Law
The Illinois Premises Liability Act dictates when a victim may sue a property owner or occupier for a slip and fall injury on their property. Under the law, a property owner has a legal duty to keep their premises reasonably safe by correcting hazardous conditions the property owners knew or should have known about or warning visitors about hazardous conditions on the property. The level of care a property owner or occupier has to another person depends on the type of visitor to the premises. A business invitee is owed a higher duty of care than a trespasser, and the facts of your case may determine whether or not you have a claim for your injuries. Because many slip and fall cases are determined by whether the actions of property owners and occupiers are reasonable, you need an experienced slip and fall attorney handling your case.
Compensation for Slip and Fall Cases
Compensation for damages caused by a slip and fall case in Illinois include payment for economic and noneconomic damages. Economic damages include compensation for current and future medical bills, lost wages, property damage, and the loss of future income and benefits. Noneconomic damages include payment for pain and suffering, emotional distress, disability, and the loss of enjoyment of life.
Contact a Slip and Fall Attorney Now
The slip and fall attorneys at Harvey L. Walner in Chicago are prepared to help you get compensation for your injuries. Call the office or contact us today to schedule a free consultation of your slip and fall claims.