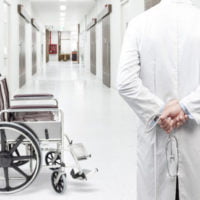 A jury last month awarded an Illinois woman's estate $4.8 million in a medical malpractice case against a physician and medical provider. According to the case, Dr. Muthiah Thangavelu and Danville Polyclinic caused avoidable injury to one of their patients, Linda Shelly. The lawsuit alleged that during a procedure to remove an abdominal cyst, Dr. Thangavelu twice cut and removed a portion of Shelly's right ureter during surgery, ultimately resulting in the loss of her right kidney and causing severe injury. Shelly died six years later after struggling for the rest of her life with this injury. The case was originally filed in November 2010, and has just gone to trial.
After eight days of courtroom testimony and less than three hours of deliberation, the jury found in favor of Shelly's estate and awarded $4.8 million for medical expenses, pain and suffering, loss of normal life expectancy, and emotional distress suffered by her and her family. The medical clinic named in the case is currently being acquired by the OSF medical group. OSF officials announced in late 2018 of their intention to purchase the clinic and the merger is expected to be complete sometime this month.
Medical Malpractice Cases in Illinois
Illinois medical malpractice occurs when a patient suffers injury during treatment for a medical condition caused by the treating physician or other medical professionals. In order to have a medical malpractice claim against an Illinois doctor, surgeon, pharmacist, or other professional, the injured patient must be able to prove that the medical professional breached the standard of care expected during the course of their treatment. In the case of Ms. Shelly, the multiple cuts into another part of her body and ultimate loss of another organ during an abdominal surgery rises to the level of a breach in the standard of care. Medical malpractice can happen during all stages of treatment, from misdiagnosis and failure to treat to prescribing the wrong medication or dosage and errors during surgery.
It is important to note that if you suspect you have a medical malpractice claim against a healthcare provider, the statute of limitations only gives you a small window in which to file your case. Under Illinois law, claimants for medical malpractice cases only have two years from the date they knew or should have known about the injuries caused by the malpractice to file a case, and under no circumstances can a victim file later than four years after the incident occurred. The only exception is for minors, who have up to eight years to file a lawsuit so long as the filing does not exceed their 22nd birthday.
Call or Contact Our Office Now
If you believe that you have suffered injury at the hands of your doctor, you may have a claim for medical malpractice in Illinois. Call the office or contact us today at the office of Harvey L. Walner & Associates in Chicago to schedule an appointment with a dedicated Chicago medical malpractice attorney.