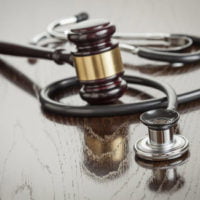 A widowed husband and father is filing a lawsuit for medical malpractice against Advocate Lutheran General Hospital, claiming that their negligence in care led to the death of his pregnant wife. On March 29, 2016 the victim, 32 years old and 21 weeks pregnant, was admitted to Lutheran General with a fever, chills, coughing with pain, difficulty breathing, an elevated heart rate, and an elevated fetal heart rate. She was diagnosed and discharged on the same day with the flu, with no chest x-rays or laboratory testing performed on her that day. Two days later she was readmitted on the morning of March 31, complaining of the same symptoms, and by 9:00 p.m. that evening she was pronounced dead due to septic shock, cardiogenic shock, and influenza pneumonia with streptococcal bacteremia.
The victim of the malpractice left behind her husband and two minor children. The medical malpractice lawsuit claims that the hospital breached its duty of care to the victim by failing to perform any testing on her first trip to the hospital as well as failing to diagnose and treat her symptoms of pneumonia. According to the lawsuit, influenza and pneumonia, as well as complications from these diseases, are more common in pregnant women and should have been well known to the medical professionals who treated the victim at Lutheran General. Had she been properly diagnosed the victim would have been admitted to the hospital on March 29 and started treatment that could have saved her life?
Medical Malpractice in Illinois
When we seek treatment from doctors, surgeons, and other medical professionals we expect to receive their full attention and top quality care. However, some doctors and hospitals fail to meet those standards with their patients, and when their negligence causes further injury to their patients they can be held responsible for medical malpractice. In order to prove medical malpractice in Illinois, the victim must show that the following elements existed during their care:
A doctor/patient duty existed with the medical professionals accused of malpractice
The duty was breached through negligent acts in patient care
As a direct result of that breach, the patient was harmed
The harm caused actual injuries to the patient
In Illinois, the victim of medical malpractice has two years from the date of the injury or when the victim should have known about the injury, and no more than four years from the date of the injury, to file a lawsuit for medical malpractice. You need a medical malpractice attorney with experience dealing with Chicago hospitals who understands what you claim is truly worth.
Don't Hesitate to Call
If you or a family member suffered injuries at the hands of your doctor or other medical professional, you may have a valid claim for medical malpractice against those responsible for the harm. Schedule a free and confidential consultation with one of our experienced medical malpractice attorneys at Harvey L. Walner & Associates today by calling the office or contacting us online.