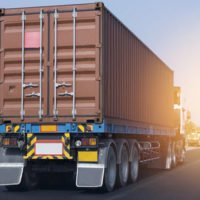 A semi-truck crashed into an unoccupied charter bus during rush hour on Monday night, engulfing the bus in flames on I-294. The accident took place around 6:50 p.m. on the interstate near Berkeley, when the truck struck the rear of the bus and it burst into flames that could be seen streets away from the highway. The driver of the semi-truck suffered minor injuries to her leg and was sent to Elmhurst Hospital for treatment. Several lanes of traffic were shut down for hours before traffic began moving normally again. Thankfully, there was no one in the bus at the time of the accident, or else the injuries and potential fatalities could have been much worse.
Trucking Accidents in Illinois
Because Chicago's interstate system serves as one of the main thoroughfares for semis and commercial trucks to travel across the country, trucking accidents happen in and around Chicago far more often than people realize. Given the massive size and force of a commercial vehicle upon impact with another car, truck, or bus on the road the injuries sustained in a trucking accident are often far worse than other types of vehicle accidents and injuries. The damage caused by trucking accidents often leads to permanent, debilitating injuries for the victims in the other vehicles, while the drivers of the trucks suffer only minor injuries or no injuries at all.
Accidents caused by semi-trucks and other large commercial vehicles happen for a number of different reasons. One of the most common causes of trucking accidents is distracted driving, when a truck driver is texting, looking at a GPS, or fiddling with the radio while driving. With the congested interstates in Chicago, it is critical that truck drivers pay attention at all times to avoid an accident. Another common cause of trucking accidents is fatigue, which can happen when drivers are expected to continue driving for hours at a time without rest in order to make their delivery on time. Driving under the influence of alcohol or drugs, failure to check blind spots, and changing lanes without signaling are all additional reasons why commercial trucks cause accidents with smaller vehicles on our roads.
Compensation for Trucking Accidents
The devastating injuries caused by commercial trucking accidents requires that you receive full compensation for your injuries to cover the costs of medical bills, rehabilitation, and other financial stressors affecting you and your family after the accident. Compensation for an accident involving a semi-truck can include costs for property damage, current and future medical expenses, lost wages, and the loss of future income and benefits. It also includes payment for pain and suffering, emotional distress, scarring, disfigurement, and the loss of enjoyment of life. An experienced personal injury attorney will be able to review the facts of your case and advise you on what compensation you should expect for your claims.
Call Our Office Today
If you or a loved one has been injured in an accident with a semi-truck or other large commercial vehicle, you may be entitled to compensation for your claims. Call the office or contact us today at Harvey L. Walner & Associates in Chicago to schedule a free evaluation of your case.