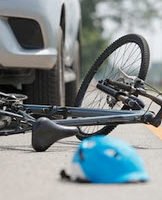 A lawsuit in the death of a 25-year-old cyclist has finally ended with millions in damages being awarded to the victim's family. Virginia "Ginny" Murray, 25, of Wicker Park was struck and killed by a flatbed truck in July 2016 while riding a Divvy bicycle in the Avondale neighborhood. She was taken to the hospital after the accident where she was later pronounced dead. Murray's family sued the driver of the flatbed truck, Cosmin Alexandru Radu, and the operator of the truck, A&B Hardwood Flooring Supplies. The city of Chicago and Divvy were not named in the lawsuit.
Murray's family declined a $500,000 settlement and went to trial, seeking $13 million in damages. The case finally went before a jury last week, where they awarded the Murray family $7 million in damages. The compensation was reduced to $5.25 million after finding Murray 25 percent at fault for the accident due to Illinois' comparative negligence rules for personal injury accidents and wrongful death cases.
Following the death of Murray, the North American Bikeshare Association issued a statement that it believed Murray's death was the first bikeshare fatality in the United States. Calling it a recipe for disaster, requiring cyclists to share narrow roadways with buses, trucks, and other vehicles will only lead to more accidents for cyclists in and around Chicago.
Bicycle Accidents
According to the Illinois Department of Transportation, in 2015 a total of 3,201 people across the state were injured, 458 suffered severe incapacitating injuries, and another 26 were killed while riding on bicycles. The vast majority of all injuries and fatalities occurred on urban city streets compared to all other categories of roadway, both urban and rural. A total of 2,567 cyclists were injured, 329 suffered incapacitating injuries, and 16 died on city streets and roads that year.
The age range of cyclists injured and killed runs the spectrum, but around one-third of all injuries occurred to cyclists in the 15-19-year-old range and the 25-34-year-old range, combined. Older cyclists in the 45-54-year-old range and 55-64-year-old range were more likely to suffer a fatal accident while riding on a bicycle in Illinois. These statistics are tragic and have only been increasing across the state of Illinois. If you or someone you know is injured while on a bicycle, you may have a claim for compensation for the harm caused by someone else on the road.
Talk To Our Experienced Attorneys Today
Chicago is supposed to be one of the most bicycle-friendly cities in the United States, and yet our city sees a number of cyclists accidents every year. If you or a loved one has been injured on a bicycle in Chicago, talk to one of our experienced personal injury attorneys today about your legal options. Call the office or contact us online at Harvey L. Walner & Associates to schedule an appointment to speak with one of our knowledgeable Chicago bicycle accident lawyers about your case.