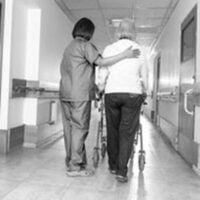 People are often hesitant to put their loved ones in nursing homes, and for good reason. While we expect that our loved ones would get the best care in a skilled nursing environment, this is far from reality.
Nursing homes are doing a lot of things wrong, as witnessed by the number of complaints these facilities receive. Between 2011 and 2015, the states received 62,790 complaints. These complaints were not for trivial issues. According to a study by the U.S. Department of Health & Human Services, one-third of nursing home patients experience some degree of harm by staff members.
If you are considering putting your family member in a nursing home, do your research. Not all nursing homes are created equal. Many put profits before patients. Abuse and neglect are key issues that you need to be concerned about. Many patients are injured or even killed by negligent or abusive staff members.
Common Issues in Nursing Homes
Nursing home patients are often unable to speak up for themselves, so you need to be aware of common issues. They include the following:
Quality of care. Delays or failures in medical care, medication errors, inadequate monitoring, excessive bleeding and kidney failure are just some quality of care issues can lead to worsening health and even death.
Resident neglect. Staff may ignore patients and not provide timely incontinent care, adequate food and liquids or adequate care of bedsores.
Resident abuse. Patients can suffer physical or sexual abuse by staff members.
Why Aren't Nursing Homes Safer?
Given that patients spend a lot of money on nursing home care, you would expect that these facilities be very safe. Unfortunately, that is not the case.
Those in nursing homes often have mobility issues or problems with cognition and memory. Many of these patients are immobile. They cannot do things on their own. They may not even know their own name. As such, they require a lot of care.
Nursing homes do not have enough staff to fit their needs. Many are purposely understaffed in order to save money. Those who work in nursing homes are underpaid and overworked. As such, turnover is high. Nurses do not stay in the same place for too long, so they fail to develop bonds with their patients.
Medicare is supposed to inspect these facilities every year. Those with serious complaints require more frequent inspections. While Medicare has strict safety standards, they are not always enforced. Some states do not conduct investigations in a timely manner. Some inspectors are tough, while others are more lenient.
Harvey L. Walner & Associates, LTD has been winning cases like these for over 50 years!
Nursing home abuse and neglect is a serious issue. Many patients suffer serious injuries and even die.
If your loved one is a victim, act quickly. The Chicago nursing home abuse lawyers at Harvey L. Walner & Associates, LTD can determine liability and help you file a claim so you receive the compensation you deserve. Schedule a free consultation today. Give us a call at (312) 313-2888 or fill out the online request form.