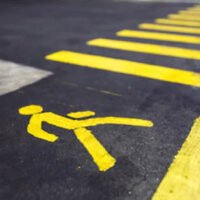 Walking from place to place is a great way to save money on gas and get some much-needed exercise. However, being a pedestrian is not always safe. Motorists are not always looking out for pedestrians. This has led to many serious crashes. In fact, in 2017, 5,977 people were killed in pedestrian accidents in the United States.
As a pedestrian, you do not have to resort to crossing a street in fear. While you cannot control the actions of drivers, there are things you can to stand out to motorists and make accidents less likely to occur. Follow these tips to prevent pedestrian accidents.
Tips for Pedestrian Safety
Be predictable. Do not make any sudden, erratic movements. Stay on the side of the road until you have the right of way. Always follow traffic signs and signals.
Use sidewalks. Stay out of the road. If there are no sidewalks available, walk so you are facing traffic. Stay as far away from cars as possible.
Cross at crosswalks and intersections. Try to cross at crosswalks and intersections if possible, where motorists are expecting pedestrians. Look both ways before crossing the road. Do not assume cars will stop and yield to you, even though you have the right of way as a pedestrian.
Stay alert at all times. Do not be distracted by phones and other electronic devices.
Be visible. Many pedestrian crashes happen at night, when drivers have a hard time seeing people. If you plan to walk at night, wear bright colors and reflective clothing. Carry a flashlight to make yourself more visible.
Watch for cars backing up. Drivers often have a hard time seeing people when they are backing up their vehicle due to blind spots. When walking in parking lots or near driveways or other places where drivers are backing up, exercise extreme caution.
Stay sober. Alcohol is one of the leading causes of pedestrian crashes. Alcohol and drugs cause impairment and can cloud your judgment. Do not cross a street while intoxicated.
Watch where you are going. Not all pedestrian crashes involve vehicles. As a pedestrian, you could become injured simply by walking. Potholes, ice, rain puddles, crumbling pavement, broken stairs, and uneven pavement can all cause a person to suffer serious injuries. You could sprain your ankle, trip and fall, break a bone or even suffer head trauma. These situations often fall under premises liability, and the owner of the property would be responsible for the damages you incur due to the poorly maintained roadway.
What should I do if I was hit by a car while walking?
There are important steps to take if you or a loved one was a hit by a motor vehicle. These steps are essential for your health and the future of your case.
Seek medical assistance at once – This is your first priority
Document your injuries with photos and a journal
Contact the police and file a police report
Ensure that you don't discuss your case with anyone
Seek professional legal assistance from an experienced lawyer who can assist you along the way
We offer our sympathy to you as an injured pedestrian and encourage you to get the legal help you need by contacting our firm today.
Harvey L. Walner & Associates, LTD has been winning cases like these for over 50 years!
Pedestrian accidents can happen to anyone. Many drivers are distracted, reckless or under the influence, causing serious crashes that can lead to broken bones, head trauma, paralysis and even death.
The Chicago pedestrian accident lawyers at Harvey L. Walner & Associates, LTD can help you with your pedestrian accident case. Let us help you obtain the compensation you deserve. Schedule a free consultation by filling out the online request form or calling our office at (312) 313-2888.