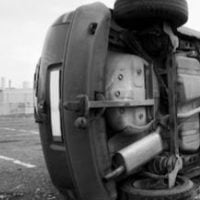 Four people were injured in a car accident early Saturday morning when a vehicle crashed into and rolled during the accident. The accident occurred in the South Side Englewood neighborhood around 2:10 a.m. at the intersection of 69th Street and the 6900 block of South Halsted. A car was being chased down South Halsted Street when it struck a vehicle making a left turn at the intersection. The vehicle making the turn was hit on its side and rolled over due to the impact. The rolled-over vehicle then struck a third car at the intersection.
There were four people injured in the two cars of the initial rollover accident, and they were all taken to the hospital in good condition. Another adult was in the third vehicle but refused medical treatment at the scene. The driver that caused the accident was given two tickets for causing the accident: failing to reduce speed to avoid an accident and failing to keep in his lane.
Rollover Car Accidents
According to the National Highway Traffic Safety Administration (NHTSA), rollover accidents have the highest fatality rate of any type of car accident that happens on the road today. In 2010, nearly 9.1 million car accidents were reported nationwide, and only 2.1 percent involved a rollover crash. However, rollover car accident account for nearly 35 percent of all deaths in passenger vehicle crashes. In 2010, more than 7,600 people died as a result of a rollover car accident.
Rollover accidents are often the result of complex and violent car accidents, given the angle and force necessary to roll a vehicle from its upright position. The type of vehicle can play a significant role in a rollover accident, but other factors often come into play when a rollover accident takes place. Typically, taller and narrower vehicles like SUVs, pickups trucks, and minivans have a higher probability of rolling due to their higher center of gravity.
Rollover accidents also happen far more often when at least one driver was excessively speeding. Around forty percent of all fatal rollover accidents are caused by excessive speeding and about 75 percent of rollover accidents happen in places where the speed limit is 55 miles per hour or higher. The majority of rollover accidents take place on roads that are undivided and without barriers, and while many rollover accidents happen in rural areas a considerable amount also take place in urban areas with these undivided streets. Almost ninety percent of rollover accidents take place while a driver is engaged in a routine driving behavior, such as navigating a curve or making a left hand turn. This suggests that at least one driver's behavior behind the wheel, such as distracted or impaired driving, can often play a role in the cause of rollover accidents.
Talk to Our Office Today
If you or a loved one has been injured in a rollover car accident, call or contact the Chicago car accident lawyers at Harvey L. Walner & Associates today to speak with an experienced personal injury attorney about your claims.