Chicago Car Accident Attorneys
Injured in an Accident?
Throughout the United States, automobile accidents are a leading cause of injury and death. Every 12 minutes, somebody is killed in a motor vehicle accident on roadways across the U.S. No one is ever really prepared for a car accident and the effect that it instantly has on your life. Even a minor car accident can result in serious injuries, significant medical expenses, and even income loss brought on by having to stay home from work because of your physical injuries.
If you've been involved in a car accident, the experience can be very stressful. You're worried about your safety, the safety of your passengers, and the safety of the other drivers involved. You'll also be worried about the damage to your vehicle. All of this stress can be very overwhelming so it's important to stay calm and focus on what you need to do, and our law firm is here to help.
Walner Law® is here to help.
The Chicago car accident attorneys at Walner Law® know the horrifying impacts that car accidents can have on you and your family members. We are dedicated to providing you with the personal service that your personal injury case deserves. Your legal claim becomes our priority, so you can focus on getting the medical attention you need and recovering with your family and friends by your side.
From negligence to property damage, legal issues always present themselves to accident victims. You may have to fight insurance companies for coverage on losses. With our decades of legal experience, our attorneys will stand up to any insurance company or entity to make sure you get the compensation you deserve. Take a look at our client testimonials and see why we are the most trusted team of auto accident lawyers in Chicago.
Weighing your legal options starts with a free consultation with our legal team. Schedule your appointment by calling (312) 313-2888 or completing our
 contact form.
What to do After a Car Accident
If you are in a car accident in Chicago, try not to panic. If anyone is injured, call 911 immediately. Once medical care is assured, these are the next steps you will want to take: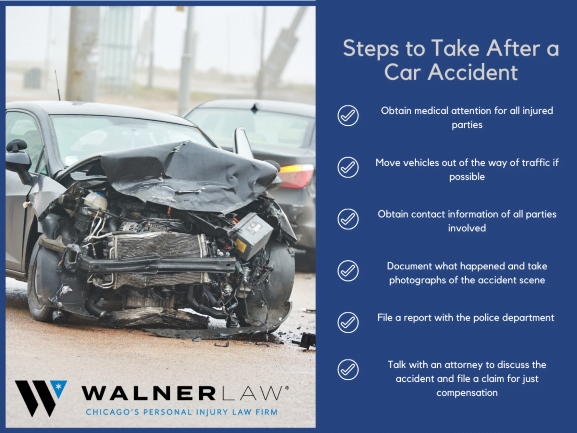 Move vehicles from traffic: If you are able, move your vehicle to the side of the road so that it is not presenting a hazard to other drivers. If you are not able to move, put on your hazard lights to alert oncoming traffic. Road flares and other safety devices will also work to alert drivers to your stopped vehicle. If you're able to, call a tow truck to help safely remove your motor vehicle.
Obtain contact information: It's important to exchange information with all parties involved in a car accident. This includes other drivers, passengers, and witnesses. Collect their names, addresses, and phone numbers, along with the driver's license number and insurance information of the other drivers. Also, write down the license plate number of the other vehicles involved, and the description of each car (year, make, model, and color).
Document and photograph the accident: It's a good idea to take photographs of the scene. Thanks to smartphones, that's become easier than ever. Besides the cars involved in the crash, take pictures of anything else that may have played a role in the car accident. This includes weather conditions, signs, and debris. You should also jot down details you recall from the collision. This will allow you to provide those details to a responding police officer, creating more clarity for them to file their accident report. Remember, this is instantly a legal matter. Never admit that you're the responsible party regardless of the situation.
File a report: Oftentimes, especially in large cities like Chicago, police officers will not respond to accidents unless someone is hurt. If property damage exceeds $1,500 or if someone was injured, you must file an accident report. This report is also a helpful reference during the claims process.
If you were involved in a motor vehicle accident and suffered injuries, call Walner Law® immediately. From your first call, we will review your case for free and let you know how to move forward with your accident claim. If it's in your best interest, we will advise that you file a personal injury claim to pursue damages. Our lawyers work on a contingency basis, which means you don't pay unless we win your case.
Fighting Insurance Companies After Car Accident
With most car accidents, a victim will find themselves dealing with two insurance companies: your insurer and the at-fault driver's insurance provider. This is just one of many reasons that you can benefit from the legal services of an auto accident attorney. Regardless of the type of accident you have been involved in, the insurance company will attempt to twist your words. The best way to fight the insurer is to not answer them when they ask for a statement about your crash. Instead, work with an experienced car accident attorney who can help you avoid shady tactics
Tactics Used by the Insurance Companies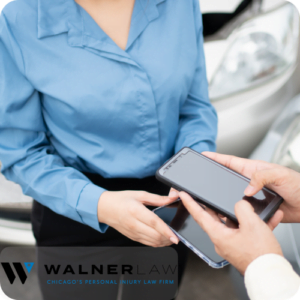 Insurance companies will work to avoid paying out the maximum amount of compensation after a car accident. They'll use a variety of tactics to accomplish this. They may offer you some financial compensation that is far below what you should receive. They may try to deny your auto accident claim outright, or delay the process until you back down.
Too many people accept far less than they should receive, fearing that if they do not take the first offer, they'll get nothing to cover their medical bills or vehicular damage. Once you take that offer, you likely can no longer pursue further financial compensation. Even if you do not plan to sue, you immediately gain an advantage by letting your insurance provider know that you are working with an attorney. A car accident lawyer will work with you to make sure you're getting as much compensation as you're entitled to, reading over documents before you sign on the dotted line.
How Our Attorneys Can Fight for You
In a busy metropolitan area like Chicago, there can be any number of factors that cause an auto accident. Even seemingly simple auto accidents can become complex once all causes are identified. That's why having an experienced Chicago auto accident attorney on your side can spare you from sudden burdens that emerge after the date of the accident. Your attorney will investigate the cause of your accident, identify all liable parties, and fight for the amount of compensation you deserve.
Hiring a reputable car accident attorney is important for ensuring the following:
Helping you find the qualified medical treatment and support that you deserve: Qualified and complete medical records are important to demonstrate that you, as an injured party, sought immediate care. A car accident lawyer will work with you to get any additional care you may need.
Providing you with objective legal advice: Attorneys know the ins and outs of the legal system and the way that the insurance companies operate when it comes to a car crash. Hiring a reputable lawyer will help you make the right decisions and will inform you of the appropriate information related to your car accident injury case.
Handling important paperwork: There is a large amount of paperwork when it comes to settling an auto accident claim. An experienced lawyer will be able to take care of all of that for you, making sure documents are completed correctly and delivered to the correct parties when necessary.
Providing moral support: A car accident is a traumatic experience, no matter how extensive the damages may have been. An experienced car accident lawyer has worked with numerous people in your situation and will know how to help provide the emotional support that is needed. Attorneys will be a shoulder to lean on to help you with your emotional distress, guiding you to the support systems that can help you deal with the mental health struggles you're coping with.
If you have been injured or a loved one has been killed in an auto accident, please contact Walner Law®. Call 
(312) 313-2888
 today to schedule your free case evaluation with a dedicated Chicago auto accident attorney.
Leading Causes of Chicago Auto Accidents
Automobile accidents occur very frequently on the highways in the United States, and Chicago is no exception. Even the most careful of drivers may find themselves involved in a car accident at some point. However, responsibility behind the wheel falls on all of us on the road. The other drivers on the road also play a vital role in whether or not we arrive at our destination safely. It is this fact that makes it virtually impossible to avoid an auto accident, even if you exercise the utmost safety while driving.
The National Highway Traffic Safety Administration (NHTSA) reports that distracted driving is playing more of a role in serious car accidents than ever before. Driver distraction is usually linked to texting or calling someone on the phone. However, it can be little things from changing the radio station to looking at a traffic accident on the other side of the road.
Other common causes of Chicago auto accidents include:
Aggressive driving
Speeding
Drunk driving or driving while on drugs
Dangerous or unmaintained roadways
Defective vehicles
Weather hazards
In order to get proper compensation following an
auto accidents
, its cause will need to be determined. Your Chicago auto accident attorney will conduct a thorough investigation into your crash to identify all contributing factors, thus enabling him to properly establish liability.
According to the National Highway Traffic Safety Administration, around 2.5% of all fatal car accidents involve drowsy drivers. An additional 2% of car accidents that result in injury involve drowsy drivers as well. Drowsy drivers, like drunk or distracted drivers, place everyone on the road at risk for serious injury, even fatality. Only with this information can a strong case be made on your behalf and the full compensation you are due to be sought.
Hidden Complexities in a Car Accident Case
Auto accidents may seem clear-cut as to who's to blame, but there can be factors involved that you are not aware of that can have a big impact on your case.
A defective vehicle is a common cause of car accidents. This is most common in SUV rollovers but can happen in any type of vehicle. Faulty tires, brakes, and other components can cause an accident to occur. Even in car accidents that truly were the fault of one or more drivers, vehicular defects can lead to even more serious injuries than possible.
Car accidents can also be caused by defective roadways. Faulty traffic signals are a good example. They can make it appear as if someone must have run a red light when really neither driver was to blame. In some cases, if the defect that caused the car crash is not revealed, an innocent driver can even face criminal charges. That driver could be you if you do not have an attorney with the experience and knowledge to properly investigate the case.
Common Questions About Car Accident Claims
What does the average car accident claim look like when broken down into processes?
Documentation: Strong car accident claims usually begin with thorough documentation. The more evidence you have collected at the scene of the crash, the better chance at the maximum compensation you deserve. Documentation from medical providers and first responders will prove helpful, too. Our attorneys like to gather as much documentation as possible before getting too far into a personal injury claim.
Investigation: At some point or another, it is common for our car accident lawyers to want more information and evidence about what happened to better prove liability and calculate your damages. We can conduct careful traffic investigations as needed. We can also work with experts like medical doctors and accident reconstruction teams to better your claim.
Filing: Once the investigations are over, evidence is collected, and damages are calculated, the next step is filing a claim against the liable party or parties. The defendant will have to decide how they want to respond, and they will almost certainly deny any liability for the car accident.
Negotiation: Avoiding litigation is usually in everyone's best interests, so negotiations tend to follow initial filings and denials. Negotiations can be held privately through a mediator who will help move the legal process along, encouraging cooperation from all parties involved. If negotiations are successful, then you could receive a fair settlement for your injuries and additional expenses.
Trial: Negotiations don't always work. When the defendant will not agree to a fair settlement amount, the only option left will be to push to litigation in court. After a discovery process, both sides will go to court to bring their cases before a judge and, in some cases, a jury. The court will decide if the plaintiff has proven the defendant at fault for the accident or negligent in providing compensation for a car accident victim. If the court finds in favor of the plaintiff, they will determine the appropriate amount of compensation to be given in damages.
What are the most common causes of car accidents?
Car accidents
are commonly caused by driver negligence — reckless driving, DUI, and distracted driving are all a consequence of careless drivers. In some cases, car accidents are caused by external factors such as road conditions or mechanical issues.
Some common causes of car accidents include:
Reckless driving
Influence of alcohol and/or drugs
Vehicle defects
Driver fatigue
Distractions
Inadequately maintained roads
Misleading road signs
Who is liable for car accidents?
Just as the causes of car accidents vary widely, so do the people who may be liable for car accidents. In most cases, a driver will be primarily liable for damages. Compensation can be pursued through a claim with the at-fault driver's insurance company or through a personal injury claim, if applicable. Vehicle manufacturers, mechanics, and other parties can also be found liable, which a Chicago car accident attorney will look into as they evaluate your personal injury case. Some attorneys have even pursued litigation against a driver's employer, say in the case of a crash with a delivery truck. Other lawyers have pursued cases against businesses that serve alcohol if DUI was involved.
How are liability and compensation determined in a car accident claim?
To determine who is liable for your injuries and the extent of your damages, evidence from the scene of the accident and following the collision can be used. Photographs, the physical damage on your car, medical bills, police reports, and witness accounts are all helpful pieces of evidence for an attorney to work with. Additionally, our team of car accident lawyers will contact expert witnesses to interpret this evidence and establish your claim.
What can I recover through a car accident claim?
Pursuing compensation through a car accident claim can provide coverage for the economic and non-economic damages that result from a collision. Accident victims may be focused solely on getting their medical bills covered, but car accident lawyers will work with you to show the true value of your claim. You are entitled to compensation as it relates to income loss from being kept away from your job, transportation costs brought on by a lack of a functioning car, and emotional distress brought on by the traumatic experience of a car accident.
What do car accident lawyers do?
Our legal team understands the complexities of car accident cases and can guide you through the claim process. We will help you get the medical attention you require, the evidence you need, and the compensation you deserve. In addition to gathering facts on your accident and building a car accident case, we can represent you in any legal disputes that arise throughout.
When should I get a lawyer for my car accident?
After any accident involving personal injury, it's important to discuss your case with a trustworthy attorney who can help you set your course for the future. Our team offers a free case evaluation without any obligation. By engaging an attorney from the start, you preserve the best opportunity to receive maximum compensation from a court settlement or lawsuit.
Why is my car accident settlement taking so long?
If you have filed a high-value claim, your car accident settlement may take longer than usual. If you have experienced a severe injury or extensive property damage, it may add complexity to the negotiations. This leads to a delay in achieving a settlement on a personal injury claim. In such scenarios, insurance companies may be drawing out the process as well.
Factors that may affect the time that it will take to settle your auto accident claim include:
The determinations at fault: This takes into account the parties contributed to the injuries and the extensity of fault of each of the parties.
The value of the damages: The calculations of the damages.
What recovery looks like for you: This takes both extensity and time into consideration.
Contact Experienced Chicago Car Accident Lawyers Today
If you or a loved one has been involved in an auto accident, you need experienced legal help. Please contact the Chicago car accident lawyers at Walner Law® today. Your initial consultation is free and, if we take your case, we only get paid if you win.
Suggested Reading:
Send us a message or call (312) 313-2888 to speak with our attorneys during a free case evaluation.