Cellphone Car Accident Attorney in Chicago
We Can Help With Your Distracted Driving Case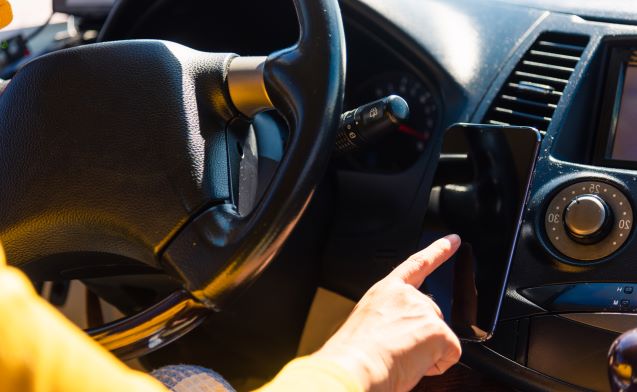 Cell phone use is one of the most common forms of distracted driving in the United States, and it leads to many cell phone car accidents along the way. In January of 2018, new cell phone regulations went into effect in Illinois. These new laws prohibit the use of cell phones and other handheld devices while operating a vehicle. They do not prohibit the use of hands-free, Bluetooth, or wireless devices. However, all cell phone use, even when it's hands-free, is now banned in school zones and construction zones and while driving on the highway. This new law made it so all cell phone and texting offenses are now dictated as moving violations, which can discourage adults and even teen drivers behind the wheel from using their phones and potentially causing car crashes.
On July 19 of that same year, the governor made it a Class A misdemeanor to use any electronic device while driving and then cause a crash that results in great bodily harm or disability.
The new cell phone regulations are intended to reduce the number of car accidents caused by this particular form of distraction. However, studies have shown that these types of laws are only effective for a short period of time. Are you or someone you know a victim of a car crash due to this type of negligence? When you or a loved one suffers a serious injury from a distracted driver or a fatal crash due to illegal cell phone use, you need a Chicago car accident lawyer on your side.
At Walner Law®, our Chicago cell phone car accident attorneys are committed to helping the victims of distracted motorists. We welcome an opportunity to meet with you free of charge to discuss your case and help you better understand your rights. We also work with you to keep you updated on your personal injury claim and ensure that you're supported through every step of the process.
If you have been injured by a driver who was using a cell phone, please contact us online at Walner Law® or call (312) 410-8496 today to schedule a free consultation with one of our lawyers about your cell phone car accident.
The Use of Cell Phones in Modern Vehicles
Previously, cell phones might have been used only to answer calls or send text messages, for which many companies sold Bluetooth pieces to help drivers avoid handheld cell phone use. However, in the modern day, these electronic devices are so much more versatile. People rely on their smartphones for a wide range of activities, which include driving and non-driving activity like the following:
Connecting with others on social media

Accessing a navigation system to get to their destination

Playing music

Setting alarms

Looking for information
More often than not, these devices command the full attention of the owner, preventing them from engaging in distraction-free driving. This can lead to car wrecks that put their safety in danger and potentially harm or fatally wound other drivers and pedestrians in the process.
Is Going Hands-Free Really Safer?
Cell phone regulations operate under the assumption that the use of hands-free devices is generally safe. On the surface, this is certainly true. Speaking out loud does not require taking your eyes off the road. Many young drivers and older drivers alike (statistics reveal that phone use is fairly high and consistent across all age groups) might see these behaviors as fine because conducting phone calls on their smartphones allows them to focus on the road, but studies have found that brain activity associated with driving diminishes even when a hands-free device is being used. This has prompted many cell phone carriers to recommend not using a phone at all while operating a vehicle lest they put themselves at risk of a fatal car accident.
No matter if your accident is caused by a driver who is texting or using a hands-free device, you deserve compensation beyond the offerings of insurance companies. Medical bills, damage to your motor vehicle, and emotional distress caused by your car accident all deserve fair compensation to help you move forward. Please contact the experienced Chicago cell phone car accident attorneys at our firm to discuss your accident and learn what your claim is really worth.
Request a free consultation by using our contact form or calling (312) 410-8496.