Uber Accident Lawyer in Chicago
Helping the Victims of Uber and Lyft Collisions
Imagine this: You're an Uber passenger simply using the service to get to your destination. You get into the car, and you're blissfully going about your day as they're en route to your drop-off point. At some point along the way, your rideshare driver crashes into another car or into a stationary object. What was simply a peaceful drive has now left you an accident victim due to your rideshare driver's carelessness. What now?
Uber and Lyft accidents can be complex. Many people who are injured in rideshare collisions feel overwhelmed by the claims process and confused by the involvement of the rideshare driver and the company they work for. After all, they were a passenger at the time of the accident. That being said, it's a rideshare service that they were using when they were injured (whether they were using the Uber app, the Lyft app, or another service). This legal gray area may confuse some accident victims and cause them to believe that they don't have any legal options.
The reality? You can reach out to a Lyft or Uber accident lawyer for support in filing a personal injury claim so that you can get fair compensation for medical bills and beyond. Chicago car accident lawyers at Walner Law® are available to answer your questions and can help you recover the compensation you deserve following a collision.
To schedule a free consultation with our legal team, complete our contact form or call (872) 814-7347.
What To Do After an Uber or Lyft Accident
If you find yourself in an accident in an Uber vehicle or Lyft vehicle, it's important to take the same steps you would if you were in an accident in your own vehicle. Following a rideshare accident, getting medical attention for your injuries should be your primary focus. Check to see if anything is broken or needs immediate medical treatment. If you are able to, you should contact first responders immediately after your collision, regardless of the type of injury you have experienced or if the driver in the other car needs medical care as well.
Once first responders have arrived and you've received medical attention, you should begin collecting evidence (date of the accident, type of accident, personal harm, etc.). Take pictures of the accident scene, get the contact information of the drivers and witnesses who saw the Uber crash, and be sure to save the rideshare driver's information on the Uber or Lyft app so you know who the at-fault driver is. As you are recovering from your injuries, continue to document your progress and save any relevant records to your personal injury case. With this evidence, you can begin filing your claim.
Contact our Chicago rideshare accident attorneys for quality representation in your rideshare accident claim.
Can I Sue My Uber or Lyft Driver After an Accident?
The simple answer is yes, you can sue if you have been injured in a crash while riding or because of an Uber or Lyft driver. If you choose to go this route, you would formally seek maximum compensation for your injuries by filing a lawsuit against the liable party. In this case, you would be reaching out to a Lyft or Uber accident lawyer to make an injury claim and seek financial compensation for medical expenses and emotional distress against the rideshare driver.
In order to succeed in a lawsuit of this nature, however, you would have to prove the following:
The Lyft or Uber driver owed you a duty of care.

This person failed to uphold their duty of care.

This negligence resulted in your injuries.

You in fact suffered injuries and are facing monetary damages.
Working with legal representation that understands the intricacies of this case is in your best interest. Rideshare passengers want to be in the best position possible when they file their claim so they have a good chance of being compensated.
Who Is Liable for Rideshare Collisions?
If you have experienced serious injuries in an accident involving an Uber or Lyft driver, you may believe the rideshare company will be responsible for paying for your damages. Unfortunately, this is often not the case. In fact, the amount of compensation you receive will often be paid by the motorist behind the wheel of the car you were a passenger of. Why? Lyft and Uber drivers operate as independent contractors, and this employment classification separates them from the supervision of the company they work for. This makes these individual drivers liable for rideshare collisions.
But what if the other driver was at fault? In these cases, you would file a claim with the other driver's insurance company. As in any car accident case, third parties may be liable for your damages, too.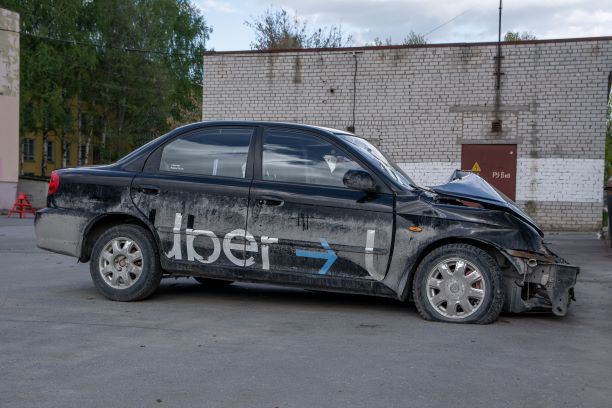 Vehicle manufacturers, road maintenance companies, and businesses that supply alcohol to drunk drivers are potentially liable third parties. Regardless of your individual situation, the best course of action is to reach out to an experienced attorney who understands Lyft car accidents and Uber car accidents to support you in your case and help you get a fair settlement.
About Lyft and Uber Insurance
Uber and Lyft offer insurance coverage to their passengers in the event of an accident. Both companies provide similar benefits to drivers and passengers if their personal insurance plans do not cover the cost of a collision.
Both Lyft's and Uber's insurance policies only apply once a driver is actively accepting rides. Additionally, the policies usually only apply if the driver's own insurance is not sufficient for covering accident damages.
If a driver is accepting rides but does not yet have a passenger, they are covered—under both Uber's and Lyft's policies—by $50,000 in bodily injury coverage per person, $100,000 in bodily injury coverage per accident, and $25,000 in property damage coverage per accident. You may be able to access this coverage if you were driving your own car and collided with a Lyft or Uber driver.
When rideshare drivers have a passenger in their car, Uber's and Lyft's insurance plans may cover themselves, their passengers, and other drivers. Both plans offer $1,000,000 in third-party liability coverage in addition to uninsured or underinsured bodily injury coverage.
More on How Insurance Coverage Works Under Lyft
Lyft operates in cities across the country, and therefore, there are strict requirements that must be met for drivers and their vehicles. Even still, accidents do happen, so all Lyft drivers are required to be covered with their own car insurance in the unfortunate event of an accident. If they do not have a passenger when the accident occurs, contingent liability would kick in. Primary coverage liability, however, is the predominant source of coverage from the time that the driver accepts a ride until the time that the passenger has been dropped off.
Explanation of Insurance Coverage in an Uber Accident
Uber operates worldwide and, like Lyft, has numerous requirements for its drivers and the drivers' vehicles. In the event that an accident happens, these guidelines will protect the driver and passenger, but only to a certain extent. The insurance will cover the accident in the case that the driver has accepted the ride request and is on their way to pick up the passenger or if the passenger is in the vehicle. In the event that the accident takes place while the driver is waiting for a request, only liability coverage will kick in.
How a Chicago Rideshare Accident Lawyer Can Help
Our legal team can help you understand the complexities of your rideshare accident case, navigate the insurance claims process, and help you recover the compensation you deserve, regardless of whether you're filing an Uber accident claim or a Lyft accident claim. Throughout the progress of your claim, we'll advise you of the best way to build your case and provide top-notch representation. We are available to answer any questions you have, and we'll regularly keep you updated about the details of your case. You're in good hands when you reach out to Walner Law!
Contact Us To Schedule a Free Consultation
At Walner Law®, our legal team offers free initial case evaluations to discuss the details of your accident. Ensuring that car accident victims get the proper compensation and justice they deserve is our first priority. No matter the details of the accident, we're here with you every step of the way once you decide to take the next steps and reach out to a Lyft or Uber accident lawyer. Contact a rideshare accident lawyer here at Walner Law to learn how our experienced attorneys can help you with your specific circumstances.
Send us a message or call (872) 814-7347 to schedule a free consultation with our Uber and Lyft accident attorneys in Chicago.