Rollover Accident Attorney Chicago
Holding Negligent Drivers and Vehicle Manufacturers Accountable for Rollover Accident Injuries
Rollover accidents are more likely to result in serious or fatal injury than many other types of car accidents. The rate of serious or fatal injury in car accidents in which rollover occurs is over 35% higher than the rate of injury in accidents where there is no rollover. Sadly, the cause of fatal injury in many rollover accidents has less to do with the rollover itself, and more to do with vehicle defects such as insufficient support structure or faulty safety equipment.
While recent changes in design and electronic stability control have significantly reduced the number of rollover accidents in the Chicago area, hundreds of people still face serious injuries or fatalities in these accidents in Illinois every year. Our Chicago car accident lawyers are here to support you. Regardless of the severity of the car crash and property damage, the types of injuries you sustained, or the medical expenses you experienced, we're with you every step of the way to make sure you get the fair compensation and justice you deserve.
If you have been injured or a loved one has been killed in a rollover accident, please contact the Chicago rollover accident lawyers at Walner Law® — call (312) 410-8496​ today to schedule a free consultation.
Preventing Rollovers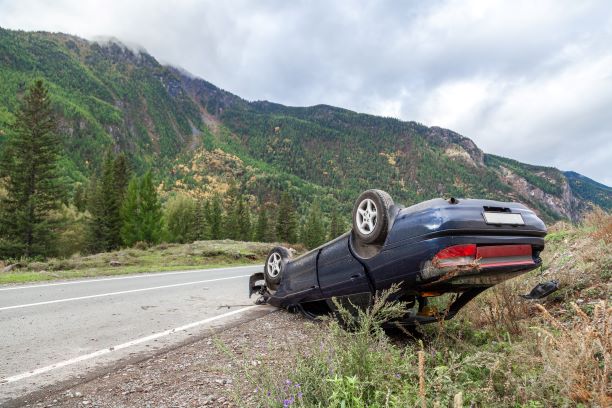 Rollover car accidents are more common in top-heavy sports utility vehicles (SUVs). To combat the prevalence of rollover accidents, electronic stability control (ESC) is now standard in most SUVs. According to the National Highway Traffic Safety Administration, SUVs with ESC are involved in 67% fewer accidents. However, ESC was not standard until the mid-2000s, and many vehicles manufactured without this technology are still on the road.
Rollover accidents are unique in that they are often single-vehicle occurrences. This may be because a vehicle comes into contact with debris or other roadway dangers. It can make establishing liability incredibly difficult. To establish liability in these cases, you need a car accident attorney on your side for your car accident case.
Single-Vehicle Accidents
The National Highway Traffic Safety Administration reports that 90 percent of fatal single-vehicle rollover accidents occur when a driver is engaged in standard driving maneuvering. This means that a majority of these accidents are not caused by factors such as distraction, speeding, negligence, or even alcohol.
Many rollover accidents are a result of poor vehicle design or roadway dangers. The only way to determine the cause of a rollover accident and ensure the proper party is held liable is with the help of an experienced auto accident attorney to support you with your lawsuit.
The aggressive Chicago rollover accident attorneys at our firm know how to investigate these accidents to determine their cause, and how to build strong cases on behalf of our clients to help them get the full compensation they are due. Our legal team works diligently to ensure you can navigate emotional distress, medical bills, and beyond.
To schedule a free consultation with an auto accident attorney, please contact us today. Our firm fights for the rights of accident victims and their families in Chicago and all surrounding areas of Illinois.
If you or a loved one has been involved in a rollover accident, please contact Walner Law® today to schedule your free initial consultation and discover how we support car accident victims in your position.