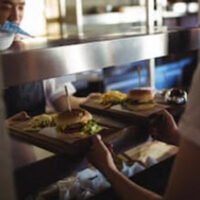 When people think of workers' compensation cases, they may imagine incidents such as falls or injuries caused by heavy equipment and other machinery. While these cases are common, many do not know that intentional acts such as workplace violence are just as common—if not more so.
Workplace violence affects 2 million workers in the United States every year. It can happen to any person, anywhere. Nobody is immune. Those who have frequent contact with the public, such as fast-food workers, face a very high risk of being injured while on the job.
Seventeen workers from 13 McDonald's restaurants in the Chicago area are suing the fast-food giant, claiming that the recent redesign has made it easier for workplace violence to occur. Angry customers have been leaping the counter and attacking employees at high rates. The employees claim that McDonald's is putting profits over people. The company is putting workers at daily risk of violence, further perpetuating a citywide and even nationwide pattern of violence.
In one example in the lawsuit, McDonald's does not allow workers who are assigned to clean bathrooms to post signs that bathrooms are out of service. Customers are allowed to continue using the facilities, which could put employees in danger of sexual violence. The lawsuit was filed on November 21 in Cook County.
McDonald's has not yet responded to the allegations in the lawsuit. However, the company has released a statement saying that it is strictly against violence and has invested in "training programs that uphold safe environments."
What is Workplace Violence?
Workplace violence occurs when employees are harmed or threatened harm while at work. It can include verbal abuse, physical assault and even homicide. In fact, it is one of the main causes of workplace fatalities.
Those who exchange money with clients, those who work late at night and those who work in high-crime areas face the highest risk of workplace violence. These include fast-food workers, retail workers, mail carriers, delivery drivers and those in the medical field, such as nurses and social workers.
Those who have been involved in workplace violence should inform their employers so the incident can be logged. They should also call 911 and let the police know. If they are injured, they should seek medical treatment promptly. Employers should let other workers know about the situation so the proper steps can be taken to keep employees safe. Employers should also implement new programs as well as offer counseling services to victims.
Contact a Chicago Workers' Compensation Lawyer Today
Workplace violence is not often talked about, but it's a serious issue that can affect millions of workers in the United States. People should not have to go to a workplace and perform their job duties in fear of getting hurt or killed.
If you suffered injuries due to intentional acts of violence by your co-workers, vendors or customers, the Chicago workers' compensation lawyers at Harvey L. Walner & Associates, LTD can assess your case. We can not only help you recover compensation, but take the steps needed to make your workplace safer. Schedule a free consultation by filling out the online request form or calling (312) 313-2888.