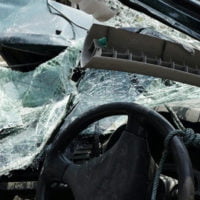 Freak weather in mid-April dropped over five inches of snow in downtown Chicago last weekend and caused a number of traffic accidents on the roads around the city. Major delays, serious injuries, and even fatalities occurred as a result of the slick roadways in Illinois and Indiana. According to reports, multiple crashes were reported on Interstate 80 and Interstate 94 in both states, involving cars and larger commercial trucks.
One person was reported dead after an accident on eastbound Interstate 80/94 just east of Cline Avenue around 3:30 a.m. on Monday. The police reported that a 2011 Buick went off of the roadway, hit a sound barrier wall for approximately one hundred years on the south side of the interstate before hitting the Burr Street exit sign. The driver had to be extricated from the vehicle and was declared dead at the scene. In addition, slick conditions due to ice and snow this weekend caused an eleven car accident on westbound Interstate 290 which led to a complete shutdown of the roadway at the Jane Byrne interchange for hours. A number of other, smaller accidents were reported across the city as people tried to navigate the dangerous roadways in this unusual April weather.
Slick Roadways Cause Car Accidents
According to the U.S. Department of Transportation, weather causes visibility impairments, precipitation, high winds, and temperature extremes that can affect a driver's capabilities, vehicle performance, and pavement friction, roadway infrastructure, crash risk, traffic flow, and agency productivity. Precipitation such as snow and sleet reduces visibility and causes lane obstruction for drivers. It impacts traffic speed, causes travel time delays, and increases accident risk. Operationally, vehicle performance, access control, and evacuation support are all limited by precipitation, especially when it happens late in the season when very few drivers are expecting it.
In addition, pavement condition due to weather conditions like those encountered last weekend reduce pavement friction and can cause infrastructure damage that leads to increased accidents on the roadways. This limits roadway capacity, traffic speed, and causes travel time delays. Pavement conditions impact vehicle performance, driver capabilities, and behavior, road treatment strategies, traffic signal timing, and speed limit control. The federal agency reported that nearly one-fifth of all traffic accidents in the United States are caused by weather-related conditions every year. On average, nearly 5,000 people are killed and another 418,000 are injured in weather-related crashes associated with adverse weather and slick roads. A total of 31 percent of these weather-related accidents occur during snow or sleet and on icy pavement like Chicago endured last weekend.
However, just because weather contributed to an accident does not mean that drivers escape liability for their actions behind the wheel. If you were injured in a car accident during adverse weather, you may still be entitled to compensation for your claims.
Talk to Our Office Today
To learn more about your legal options with the help of a skilled Chicago car accident attorney, call or contact the office of Harvey L. Walner & Associates today.