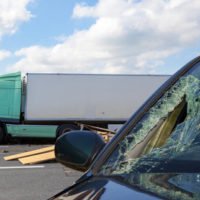 Five people were critically injured over the weekend after a tractor trailer crashed into vehicles stopped on the roadway, causing a chain reaction accident on Interstate 94. The accident occurred around 2:15 p.m. on Easter Sunday in the eastbound lanes of the interstate near Northbrook. Four cars including a black KIA Sportage, gray Honda Odyssey, gray Toyota Highlander and blue Nissan van had been stopped in heavy traffic when a Volvo semi-truck with a green trailer struck them all from behind.
The driver of the truck, Jeffrie Baker, 23, failed to stop and struck the cars in front of him, causing a chain reaction accident on the roadway. Five people, including drivers and passengers, were taken to nearby hospitals with life-threatening injuries. The victims of this chain reaction accident include a 36-year-old Chicago man, a 46-year-old Round Lake Beach woman, a 37-year-old Mundelein woman, a 48-year-old Lindenhurst woman, and a 13-year-old girl. Baker, a Deerfield family in a Toyota, and an Elk Grove Village man in a Nissan were uninjured in the accident. Baker was given a citation for failure to reduce speed to avoid an accident.
Traffic in the eastbound lanes of Interstate 94 was closed for hours on Easter Sunday, with normal traffic patterns resuming around 9:00 p.m. that night. The investigation into the accident is ongoing and Illinois State Police reported that no immediate cause for why Baker failed to stop is known.
Chain Reaction Car Accidents
A chain reaction car accident occurs when three or more vehicles are involved in a series of collisions caused by a first initial crash. In multi-vehicle accidents such as these, it can be difficult to determine liability, and in many cases more than one driver may ultimately be at some level of fault for the accident. Typically, the driver that caused the initial crash is held liable for the injuries caused to the victims in the other vehicles. However, other drivers in the chain reaction accident may be held partially liable, as well.
Some of the most common causes of other drivers in the chain reaction being partially liable for the injuries caused include the following:
Drivers fail to use their brake or other signals
Drivers following too closely
Drivers were speeding
Drivers were texting or driving distracted, and more.
Still in other situations, the other drivers in the chain reaction accident may not be held liable at all. One common example of this is when inclement weather or hazards in the road cause a chain reaction crash or the initial crash is caused by a medical emergency with the driver in that vehicle.
Call or Contact Our Office Today
Chain reaction accidents and other complex car accidents can be confusing situations to figure out while you are also trying to recover from your injuries. Let the knowledgeable Chicago car accident attorneys at Harvey L. Walner & Associates help. Call the office or contact us today to schedule a free consultation of your case.