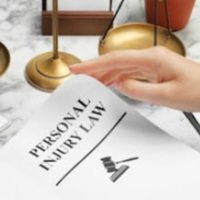 St. Clair County jurors recently awarded George Buchanan $7.15 million on May 9, 2019. Mr. Buchanan was significantly injured and disfigured after a head-on collision with a school bus that crossed the double-yellow line in the road. Of the amount he received, his Illinois personal injury lawyers won $6 million dollars for non-financial reasons known as non-economic compensatory damages. Here is a breakdown of what this amount entailed:
$3 million for pain and suffering
$2 million for disfigurement
$1 million for loss of normal life
You have may have heard these terms before in the preceding list. Within the context of personal injury, Illinois statutes define non-economic compensatory damages as the intangible compensation amounts related to pain and suffering, disfigurement, and loss of consortium arising from a lawsuit. Each category carries a specific meaning within the legal framework.
Non-Economic Compensatory Damages a Plaintiff Can Request in Illinois
If you are considering non-economic damages in your case, a personal injury lawyer licensed to practice in Illinois can give you some insight and perspective. Having a basic understanding of your options is a great way to maximize your initial consultation with him or her.
Pain and Suffering
Pain and suffering is compensation reserved for victims of emotional and physical distress stemming from an accident caused by someone else. Examples of pain and suffering include the amount of physical pain experienced, emotional trauma from the accident, new mental health diagnoses, insomnia, and any other negative change in overall emotional well-being. Future pain and suffering is available for some cases determined to be ongoing.
Disfigurement
Accidents involving an injury can lead to permanent changes in the aesthetic of a person's body. Cuts, blunt force trauma, broken bones, and crush injuries may heal, but they leave their mark permanently in the form of marks, scars, amputation, skin grafts, and discoloration. Unfortunately, these outward changes sometimes impact a person's life beyond normalcy. Not to mention that the disfigurement often reminds the injured person of the accident. Disfigurement damages attempt to compensate the victim for the permanent loss.
Loss of Normal Life
Loss of normal life is the diminished capacity to take joy in life as one did before the accident. This type of non-economic damage may also include temporary or permanent disability. In short, loss of life is any adverse change to a person's lifestyle resulting from the inability to manage mental and physical functions.
Getting Help from an Illinois Personal Injury Lawyer
Working with an experienced personal injury lawyer can help you evaluate the non-economic damages that may be available. He or she can advise how much you should request in your lawsuit using the facts your case. It may also prepare the opposing party for settlement discussions.
Our Chicago personal injury attorneys at Harvey L. Walner & Associates, LTD provide unparalleled service and results through practical counsel and aggressive representation. Contact our office today and schedule a free, no-obligation consultation to find out how we can help you. You can reach our office by phone at (312) 313-2888 or by completing our request form.