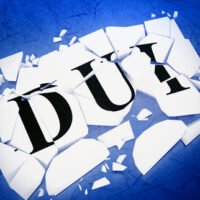 Although all motorists know not to drink and drive, many still do. They leave a bar or party after drinking too much and instead of getting a ride home from Uber, Lyft, a friend or family member, they take the chance and drive home.
Driving under the influence is defined as operating a motor vehicle while being impaired by alcohol or drugs. This decision has serious consequences. While it is possible for a drunk driver to make it home without getting into an accident, in most cases, the result is a serious accident causing vehicle damage, debilitating injuries and even death.
Drunk driving is a serious problem across Illinois and all over the country. Every day, 29 people die from crashes caused by alcohol intoxication. Sixteen percent of crashes involve substances besides alcohol.
Young people are more likely than older people to have a high blood alcohol content (BAC). In 2017, 6,844 people between the ages of 21 and 24 were arrested for drunk driving—the highest of any other age demographic. Those between 25 and 34 were also likely to be arrested, with 5,779 arrests.
The legal BAC varies on the type of driver. For school bus drivers and drivers under 21, any BAC above .00 is considered illegal. Truck drivers and others with commercial licenses cannot have a BAC above .04. For drivers over the age of 21, anything above .08 is illegal.
DUI Penalties
The penalties for a DUI in Illinois depend on several factors, such as the driver's age, BAC level, previous DUI convictions and whether or not there were children in the vehicle. These factors can elevate a misdemeanor DUI to a felony, or aggravated DUI.
For a first-time DUI, a person will have their driving privileges revoked for one year. It is a Class A misdemeanor. Their vehicle registration will also be suspended. If the person has a BAC of 0.16 or more, the person faces a minimum fine of $500 and must perform 100 hours of community service.
A second conviction is also a Class A misdemeanor. There is a minimum requirement of five days in prison or 240 hours of community service. If the second conviction is within 20 years, then the person's license will be revoked for five years. If the driver was transporting a minor or the crash caused serious injury or death, the DUI will be elevated to an aggravated DUI, a felony.
A third conviction will result in a Class 2 felony. The person's driving privileges will be suspended for 10 years. On a fourth or subsequent conviction, driving privileges will be suspended for life.
Harvey L. Walner & Associates, LTD has been winning cases like these for over 50 years!
Drunk driving accidents can cause serious injuries and even death. Don't do anything until you seek legal help.
The experienced Chicago drunk driving accident lawyers at Harvey L. Walner & Associates, LTD can help you obtain the compensation you deserve. We can ensure the liable party faces both criminal and civil actions for their wrongdoing. To schedule a free consultation, call (312) 313-2888 and fill out the online request form.