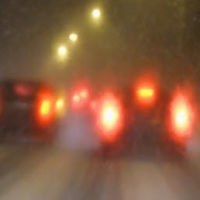 Blowing and drifting snow caused a number of vehicle spinouts and car accidents across the city during the Valentine's Day holiday weekend. In the southern suburbs, blizzard conditions caused a three-vehicle crash in Steger, and state police were forced to close northbound I-57 in Manteno due to blowing snow. North of the city, the McHenry County Sheriff's Office warned drivers that some roads were impassable by three and four feet of snow drifts. They reported multiple accidents involving vehicles drifting and spinning out on the roadways due to the cold weather conditions. One such multi-car pileup caused massive delays, with black ice being blamed for the accident. East of the city, an accident involving two semi-trucks created long delays in traffic on southbound I-65 near Crown Point, Indiana.
Over 6,800 ComEd customers throughout Chicago reported a lack of power due to ice and wind. Falling ice was also a major concern in the city, where large chunks were reported falling off of buildings and destroying vehicles. The Metra Electric Line and South Shore Line also had service temporarily suspended because of ice.
Car Accidents and Inclement Weather
According to the Federal Highway Administration, around 22 percent of traffic accidents that happen every year are weather-related. Almost 6,000 fatalities and another 445,000 injuries nationwide happen because of weather-related traffic accidents annually. A weather-related accident is defined as a crash that occurs in any adverse weather condition such as rain, sleet, snow, fog, or wind. Wet roads after inclement weather account for almost three-quarters of these types of accidents, with another seventeen percent of accidents happening because of snow and sleet. Thirteen percent of weather-related accidents happen because of icy conditions, and a final three percent happen during fog.
However, just because the weather is inclement does not mean that a driver escapes liability for causing an accident. The same principles of negligence apply in bad weather accidents as they do during sunny days. For any weather condition that increases the risk of accidents simply increases the level of care a driver is expected to take when getting behind the wheel. To minimize your chances of being involved in a car accident during bad weather, check to ensure that your vehicle is properly serviced for winter driving, adjust your speed to be consistent with safe driving, leave more space than usual between you and the car in front of you, allow extra time to get to your destination, and drive defensively.
Talk to a Car Accident Lawyer Today
Bad weather always leads to more accidents and serious injuries on the roadways. If you were injured in a car accident during inclement weather, you may have a claim for compensation against the other drivers involved. Call the office or contact us today at Harvey L. Walner & associates to schedule a free appointment with one of our experienced personal injury attorneys to discuss your legal options after a bad weather car accident.